The User private backup area stores manual backups (mbz files) created by the user. The backups found in the user private backup area are created from the manual backup process by the user, as a teacher in a course. These backups are different from the automatic backups of AsULearn courses that Academic Technologies makes every night.
Many of these backup files are created to restore a course and may no longer be needed. These manually-created backups in the User private backup area will be kept for 30 days. However, you can download these files from the user private backup area if you wish to keep them.
The user private backup area can be accessed by going into a course and selecting Restore from the gear menu.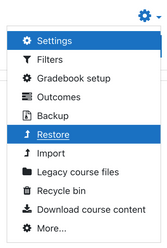 Scroll down on the Restore course page and you will see the User private backup area and the list of all the course backups in this area.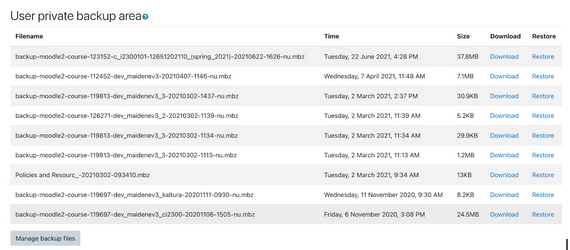 Click on the Download link for the respective backup to download a copy of the backup file to your computer. You can manually delete these files by clicking the Manage backup files button, then clicking on the backup you wish to delete, then Delete.
If you have questions about the backup process or the User private backup area, please contact your CETLSS Instructional Design Specialist.
Related Articles
We value your feedback! Click HERE to suggest updates to an existing article, request a new article, or submit an idea.