Your Default Mail Handler is the email program that is launched when you click on an email link on a Web page or email message. You can make Google Chrome your default mail handler by doing one of the following steps:
1. Open the Google Chrome Browser on your computer.
2. Make sure you are signed into your App State Google account.
3. Click the three dots Chrome menu icon  

in the top right corner of your browser.
4. Click "Settings".
5. Click the Settings sidebar three lines menu icon

in the top left corner of your browser.
6. Click on "Privacy and security".
7. Click on the "Site Settings" menu.
8. Scroll down and click on the "additional permissions" drop-down menu.
9. Click the "Protocol handlers" menu.
10. Make sure there is a blue dot enabling the Default behavior options:

11. Go back to "Site Settings" and click on the "View permissions and data stored across sites" menu.
12. Click on the "google.com" menu and then click on the "mail.google.com" menu.
13. Scroll down and find "Pop-ups and redirects" click on the drop-down menu to "allow".
14. Navigate to your Mountain Apps Gmail account in your chrome browser.
15. When you first log in to your Mountaineer Apps Gmail account, you'll see a double-diamond icon in the top right of your address bar
16. Select the double-diamond icon to allow Gmail (mail.google.com) to open all email links and then click "Done".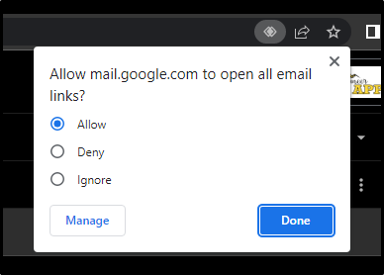 17. If you are using a PC, your windows settings will pop up.
18. In Google Settings>Site Settings>Protocol Handlers, choose Google Chrome as your default email app.
If you have any questions, feel free to submit a request at support.appstate.edu/help, or call the Help Desk at 828-262-6266.
Related Articles