App State's Systems Status Dashboard is used to provide students, staff, and faculty information about the operational status of App State services including:
Networking

Banner Services

Google Services

AsULearn

DegreeWorks

Drupal

Appalachian Technology Service Desk

uDesk

Phone Services

Zoom

Security Event

YoMart

Other Services
Visit https://status.appstate.edu to keep up-to-date on the status of these services and more. IT staff will list any newly created incidents, updates to already listed issues, and the resolution to all incidents. Also listed on this site are regularly scheduled maintenance dates and a list of past incidents.
For the latest status updates, you can either subscribe to get text message notifications (or email notifications) whenever the App State status page creates or resolves an incident.

Subscribing to text message alerts:
Signing up for text alerts is preferred in the event of an email service outage. Text alerts only occur for notification or resolution of outages. Email alerts will include maintenance or outages. We recommend you sign up for only one option.

1. In your web browser, navigate to Systems Status Dashboard.
2. At the top of the page click "Subscribe to Updates".
3. In the Systems Status Dashboard collapsible menu, click on the phone icon and enter your phone number, then click "Subscribe via text message".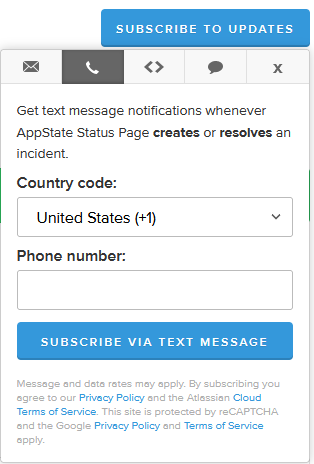 4.  Check your text messages and follow the prompts to confirm your subscription.
Subscribing to email alerts:
1. In the Systems Status Dashboard collapsible menu, enter your email address and click "Subscribe via email", complete the captcha and click "Verify".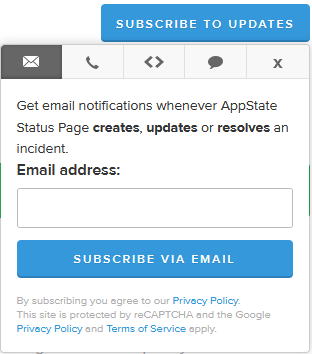 2. Check your email to confirm your subscription: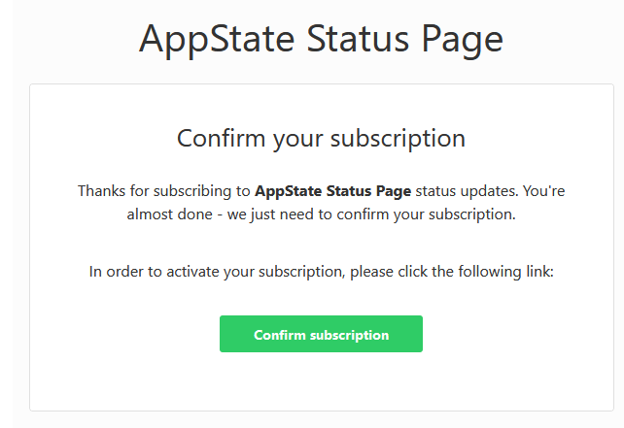 In the Systems Status Dashboard, new outage alerts will appear in a box at the top of the home page and the color of the alert will depend on the level of issue (maintenance, monitoring, outage).



At tech.appstate.edu, the status alert will be displayed at the top of the homepage and will include a link to view the status page on the Systems Status Dashboard site: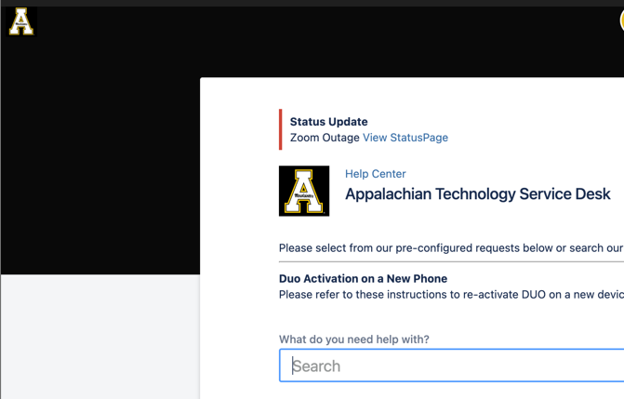 On the ITS Support Services website, outage alert popups will show up at the bottom left of the page with a link to view the latest updates concerning the outage:

Related Articles
We value your feedback! Click HERE to suggest updates to an existing article, request a new article, or submit an idea.