Skip to end of metadata
Go to start of metadata
Please review the article on What is Duo? before enrolling.
The Duo Mobile app is the quickest and easiest way to provide two-factor authentication on your Appstate account. After logging in with your username and password, choose Duo Push on the authentication prompt. Then, simply tap 'Approve' on the push notification to securely access your application.
Please be aware that Duo Two-Factor enrollment is required and not reversible. Once enrolled, you will need to be in possession of an authentication device for all future logins. This includes Google and AsULearn logins on personal, office, and classroom computers. Be sure to have your authentication device with you when accessing authenticated services in the classroom.
For a quick preview of the steps outlined below, check out the video from Duo Security below.
Setting up the Duo Mobile app
(Assisted/Manual Enrollment, for users without a smart device or who prefer not to use a mobile phone, can be requested here.)
Install Duo Mobile on Your Smart Phone
Install the Duo Mobile app on your phone. (note: There are a few other apps with DUO in the name, so be sure to select the app pictured below)

On an iPhone, go to the App Store and search for Duo Mobile.
On an Android, open Google Play to search for Duo Mobile.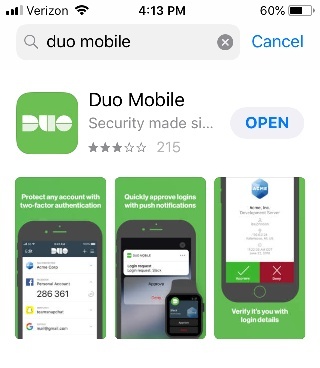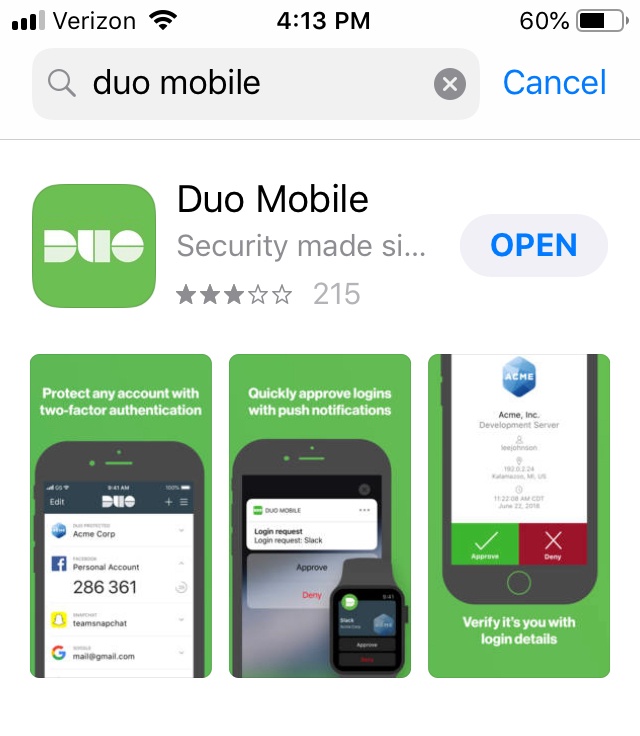 When installing, be sure to allow notifications and approve access to your devices camera if prompted.
Once installed and OPEN, you'll see Get Started or Add Account options.

Pause here and leave this screen open, you will return to your phone and need this screen at the end of Step 2.
.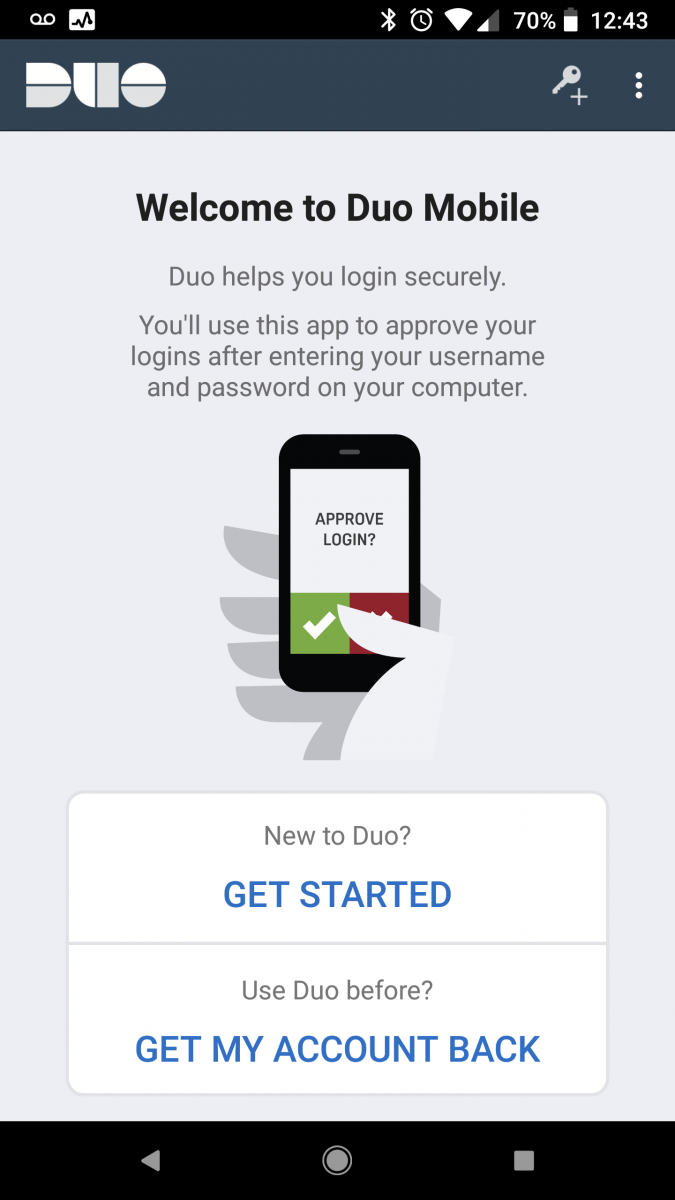 Add your Mobile Device
Authenticate with your AppState credentials and click the button to Enroll in DUO
Follow the on-screen prompts to add your mobile device, mobile phone number, and device type.
A barcode (QR Code) will display that will need to be scanned with the DUO mobile App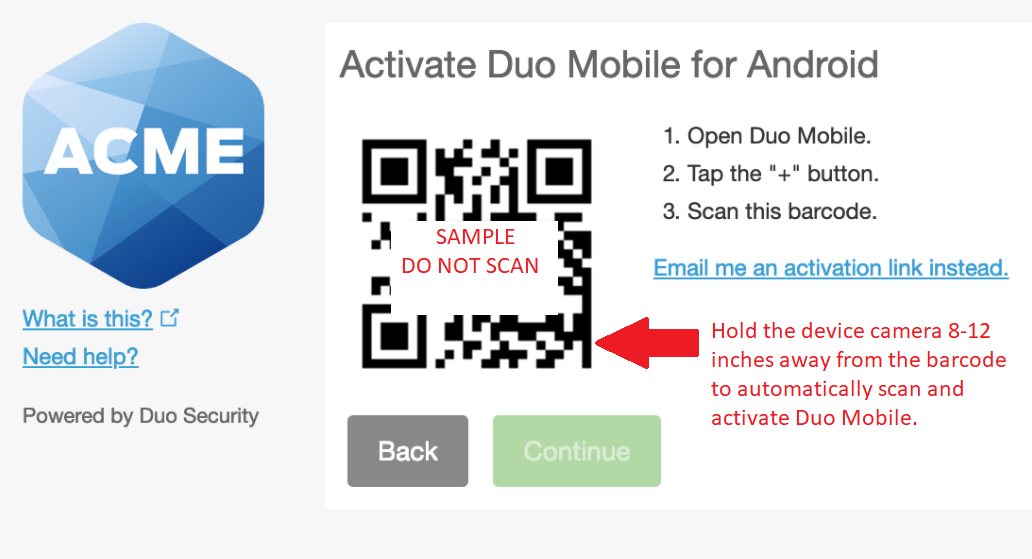 Go back to your mobile device/phone and select Get Started or Add Account (Allow access to your camera if prompted.)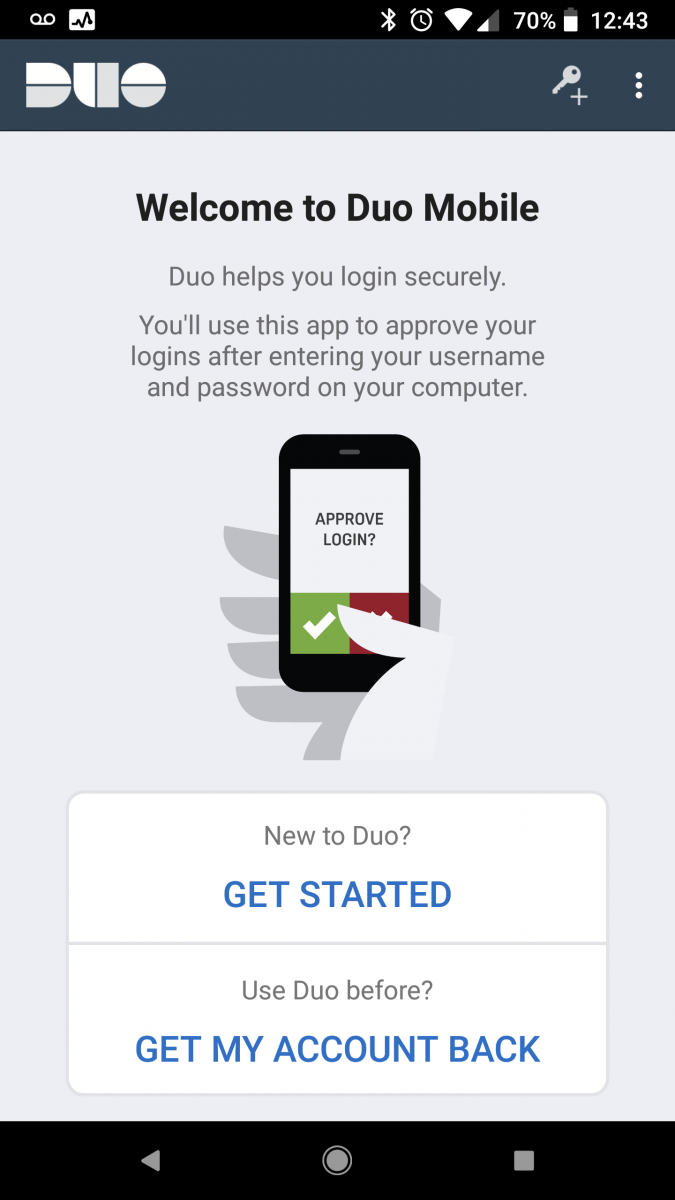 Point the rear-facing camera at the barcode, and the DUO app will automatically scan and add your AppState account to Duo Mobile. A successful scan will display a

green

check over the barcode.
Congratulations! Now that you're enrolled and your mobile phone is added as your primary authentication device, it is a good idea to add a secondary option from the steps below, just in case you are ever without your smart phone.
Generate one-time Passcodes for emergency use (required for students)
Passcodes are randomly generated string of numbers that can be typed into Duo as a second factor of authentication. Store passcodes in your wallet or purse, in a place that you are most likely to have access to them.
Here's how to generate passcodes:
Access the Duo settings control panel (you may have to open this link in an incognito/private window or a separate browser, if you've recently authenticated with Shibboleth and Duo).
Login with AppState credentials and from the DUO options click the Enter a Passcode

button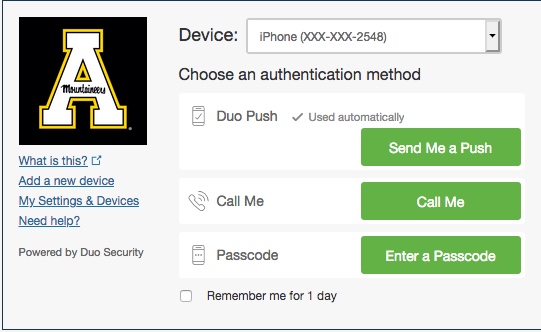 From the blue bar that appears, click on

Text me new codes

(see the images below).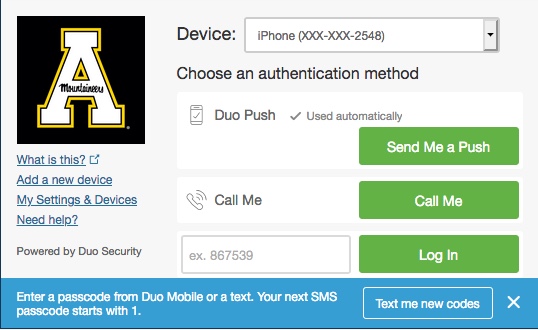 When you get the text, write down the codes on a piece of paper.

You can use this handy template if you like. Important: When in a situation when a bypass code is necessary you will most likely not have your phone. Please write them down and store them securely.

Each code is good for one use, and you have to use them in order, so start with the code that begins with the number 1.

Once you've used that code, it can't be used again.
Add a landline, office/home phone, tablet, TouchID, or non-smartphone as a device
From a computer, Access the Duo settings control panel (you may have to open this link in an incognito/private window or a separate browser, if you've recently authenticated with Shibboleth and Duo).
Click the Add a new device link
Send a push to your phone to authenticate with Duo (anytime you want to add a device or see your devices and settings, you have to authenticate with Duo)
Select your desired device from the list and follow the on screen prompts to complete the process.
You may have to use a different browser if you've already authenticated with Shibboleth and Duo.
Related Articles
For more information including resources for support please visit the DUO - 2-Factor Authentication Service Catalog Page.
We value your feedback! Click HERE to suggest updates to an existing article, request a new article, or submit an idea.