Skip to end of metadata
Go to start of metadata
You may choose to use the Google Drive app to sync your Google Drive documents offline. Google Drive can only sync only one Google account at a time. This guide is a workaround for accessing your Drive documents offline with multiple accounts (e.g. your MountaineerApps account and a personal Google account).

1. Make sure you have installed the Google Drive app and it is open.
2. If you haven't already, sign in to the Google Drive app with your MountaineerApps account.
This will create a folder on your computer called Google Drive and begin syncing/downloading all
the documents from your Google Drive in the web.
3. Once your Google Drive is synced, follow these steps to disconnect your account:
a. Click the Google Drive app icon and go to Preferences.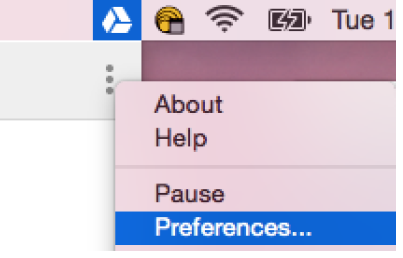 b. In the Preference window go to the Account tab and click Disconnect Account.

c. Once you disconnect, your account will no longer sync any changes between
your Google Drive.

4. Navigate to the Google Drive folder that was created on your computer:
a. On a Mac this will be in Macintosh HD\Users\username\Google Drive
b. On a PC this will be in My Computer\Users\username\Google Drive
5. Rename the Google Drive folder to "MountaineerDrive".
6. Next, you will click on the Google Drive app and sign in with your personal Google account.
Walk through the setup pages that appear.
7. This will create another Google Drive folder. Wait for your Google Drive to finish syncing the
documents in your personal account.
8. Once again, disconnect your personal Google account (see step 3 for directions). At this point
you should have a "MountaineerDrive" folder and a "Google Drive".
9. Sign back in to the Google Drive app with your MountaineerApps account.
10. Go through the set up windows again, however when you get to the last page select
Advanced setup.

11. Click "Change…" and select your "MountaineerDrive" folder.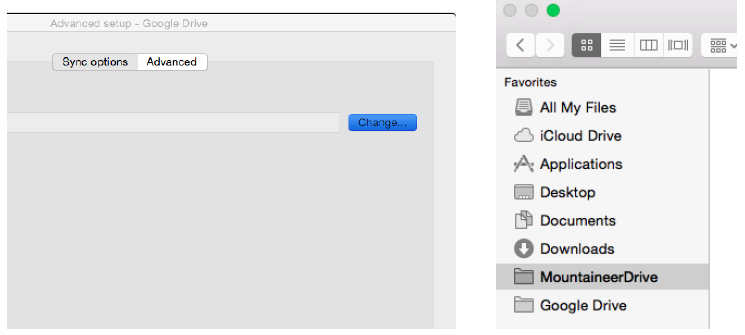 You have now synced your Google Drive documents from both Google accounts to two separate folders
on your computer. You can open and edit these documents offline, however when you are back online,
you can only sync to them one at a time!
If you have any questions, feel free to submit a support request at support.appstate.edu, or call the Help Desk at 828.262.­6266 Option 1
Related Articles