1. From your computer, send your print job to either of the following print destinations (this will be the same for everyone on campus):
ASU-SHARP-BW

for Black and White printing

ASU-SHARP-COLOR

for Color printing




2. Authenticate at the printer by using either your AppCard, Banner ID, or App State username and password.
3. Once you are logged in, you will see the PaperCut main menu. Press Print Release (the button on the left) to see your current print jobs: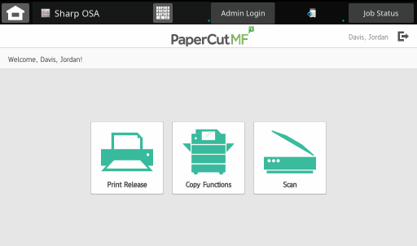 4. The next screen will show a list of your pending print jobs. Select the print job(s) you want to release (a check mark will appear when a job(s) is selected). 
You can also adjust the print options for a specific job by clicking the

right arrow

next to the print job you want to change. 

You can also choose select

print options

on this screen such as grayscale for black and white and 2-sided printing (at the bottom of the screen).

Press the Print

button (lower right corner of the screen) to release the print job and print your document (Students will see the cost of the print job in the print job details.)



PaperCut Pricing Guide for Students
Price per Sheet - Letter (8 1/2 x 11):
| Type | Price |
| --- | --- |
| Black and White | $.03 |
| Duplex (2-sided) | $.03 |
| Color | $.50 |
Related Articles
Content by Label
| | |
| --- | --- |
| showLabels | false |
| max | 50 |
| showSpace | false |
| sort | title |
| excludeCurrent | true |
| cql | label in ("print-services","print","papercut") and space = "ATKB" |
We value your feedback! Click HERE to suggest updates to an existing article, request a new article, or submit an idea.