Here is guide that describes how to submit a Goodle Doc for an assignment. The steps for submitting a Dropbox file are similar, just select the DropBox repository instead of GoogleDocs, and Login to your account.
Click the title of the assignment on the main course page.
Click the Add submission link below the assignment description.

---
After clicking the add button, the File picker window appears.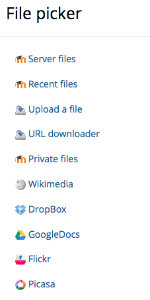 ---
From the File picker window, click the GoogleDocs or DropBox link on the side menu.
There is a Login to your account button that you click to login and select the file. After logging in, click a file name to select it.
After selecting it, it should appear in the window as the submission.
Click Save changes.