AppState academic and business units have the ability to obtain licenses for apps from Apple's App Store (for Mac, iPad, iPhone, and iPod Touch) for deployment on University-owned and managed devices. Follow these steps to obtain licenses of a free or paid app from the App Store, which can then be distributed to your devices over the network.
Apps can only be distributed to University-owned devices that are managed in Jamf Pro. We cannot distribute these to personal or non-managed devices at this time.
Step-by-step guide
Request an Apple School Manager (ASM) Account

If you already have an Apple School account, continue to Step 3.

You need to be a purchasing authority with access to the departmental P-Card. For example, an Administrative Support Specialist.

Submit an "Account Assistance" support request at tech.appstate.edu with the following information:

In the summary: Need Apple School Account Created for App Purchasing

In the description: submit your name, email, and department

The Chair and/or Director of your department will need to approve this account creation.

Information Technology Services will generate your account and you will be notified before you can continue to Step 2.



Log in with your created Apple School account for the first time

Once ITS has created your Apple School account, you will receive a temporary password in your email.

Go to school.apple.com and log in with your newly created Apple School account and temporary password.




When prompted, add a phone number that can receive texts for 2-factor authentication.




Enter the verification code sent to your phone.




Update your password (use your temporary password as your current password).




Click continue when prompted.




From the left sidebar, under Content click on Apps and Books. Then click Get Started.




Read and agree to the Terms and Conditions.




Next, we need to add a purchasing method. From the bottom of the left sidebar, click on Settings.



Click on Apps and Books under Personal Settings then click Add under My Billing Information. Next, click the dropdown to select Credit/Debit Card and add billing information for your P-Card and save.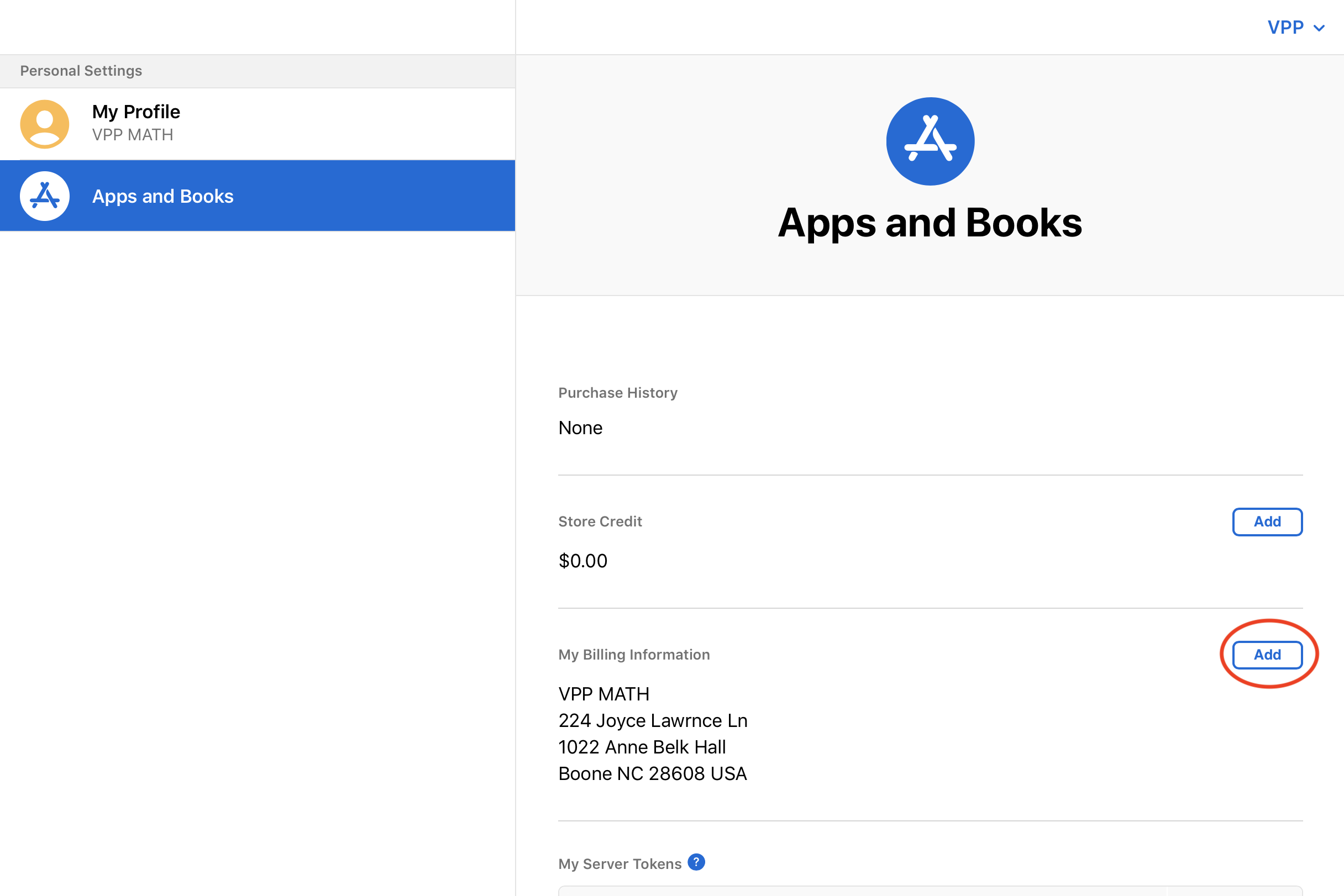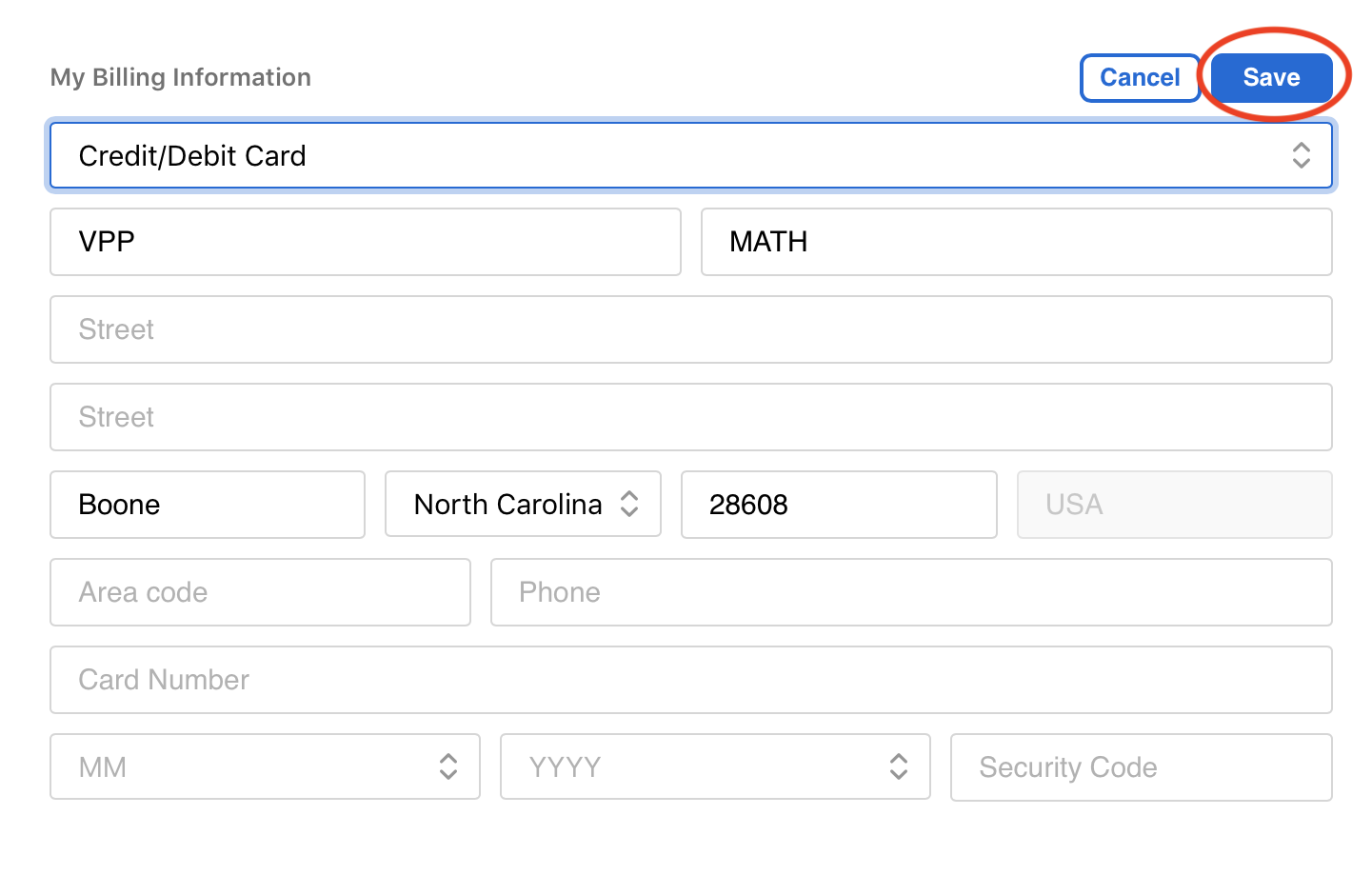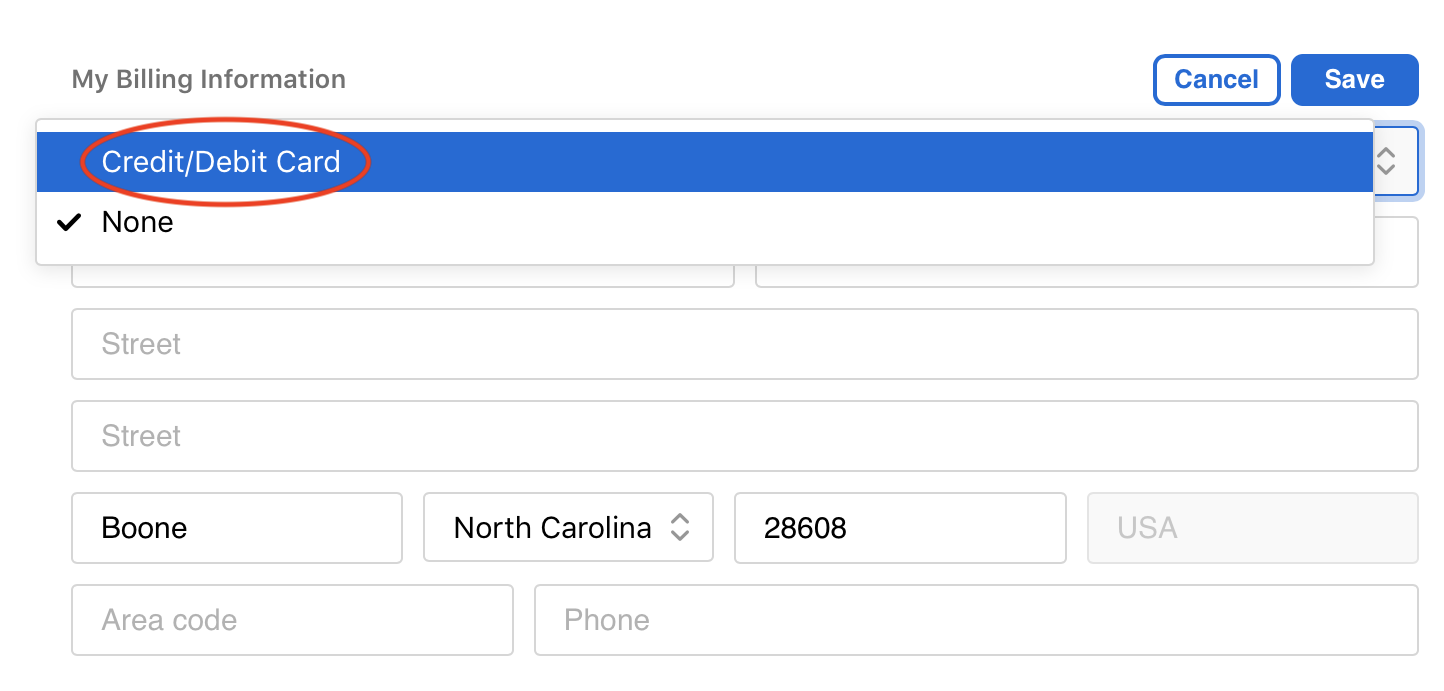 Apple is really particular about this information and will decline cards without the exact billing info. You may have to contact the purchasing office to enter it in exactly as specified by purchasing.
3. To Obtain Licenses of an App
In a web broswer, to

school.apple.com and log in with your Apple School account




From the left sidebar, under Content click on Apps and Books. 

Apps that have been purchased will show up automatically




Click the filter icon beside the search bar to filter apps by what type of device it is for.




To find a specific App, search for the App name or Developer name and select it from the list. 

Under

Assign to

choose your location.






Enter the quantity of licenses you need to obtain of the App, then click the Buy or Get button depending on if the App is free or paid and Apple will process the codes.



Most paid Apps are provided at a 50% discount when purchasing 20 or more licenses.

 

Now that you have obtained licenses of the Apps through your Apple School account, you will need to request ITS deploys these Apps through our management system, Jamf Pro. Continue to the following guide for step by step instructions on how to Request Deployment of Apps from the App Store.


Related Articles
Related articles appear here based on the labels you select. Click to edit the macro and add or change labels.
We value your feedback! Click HERE to suggest updates to an existing article, request a new article, or submit an idea.