...
2. In the topic where you want the Attendance link to appear, click the Add an activity link.
3. Under the Activities tab, click Attendance, then click the Add  Save and display button at the bottom.
4. On the Adding a new Attendance the newly displayed Attendance page, click to expand the Grade section the Status set tab to set your preferences for grades with relation to attendance.
Info
The Center for Academic Excellence strongly recommends
selecting
Grade
selecting Grade Type:
None to
None to keep the attendance activity from affecting your gradebook totals.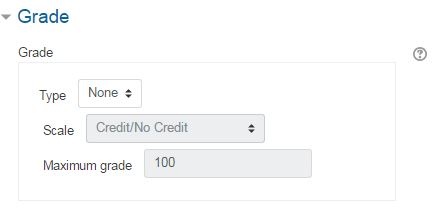 Image Modified
Many faculty lower students' final grades when a certain threshold is crossed. For example, if you want to lower a student's grade after three absences, then
...
set Grade Type: None, and manually adjust grades at the end of the semester.
5. Click Save and display to show the Attendance setup page for the course.
...
Widget Connector
| | |
| --- | --- |
| url | https://www.youtube.com/watch?v=R-B3CfgvtE8&feature=youtu.be&hd=1 |
Generating QR Codes to Take Attendance
Widget Connector
| | |
| --- | --- |
| url | https://www.youtube.com/watch?v=BBhSMYpw2DU |
Added Notes about QR Codes
Not all students may have a mobile device in class, so be sure to have an alternative sign in sheet, just in case.

If you set up the QR option, you can still opt for the traditional method for taking attendance.

When students self record, the attendance marks the status and puts 'self-recorded' in the comment box.

If a student doesn't have a mobile device with a camera to scan the QR code, they can still go to the Attendance link and self report. They will be prompted to enter a password; the password is randomly generated and appears on the QR page.
Related Articles
Content by Label
| | |
| --- | --- |
| showLabels | false |
| max | 100 |
| showSpace | false |
| sort | title |
| cql | label = "asulearn-fs" and space = currentSpace() |
...