Skip to end of metadata
Go to start of metadata
CAUSE: Some iOS devices have configurable content restrictions that can potentially prevent the Duo Prompt from displaying correctly. This issue can also be caused by having content restrictions on the device.
ISSUE: While attempting to log in to a Duo-protected application on iOS, the Duo Prompt does not display as expected and a gray box will appear instead of the Duo Prompt.
RESOLUTION: Disable content restrictions on the device. The instructions are described below for different versions of iOS.
Disabling content restrictions:
iOS 12 or newer:
Navigate to Settings > Screen Time > Content & Privacy Restrictions > Content Restrictions > Web Content.
Uncheck Limit Adult Websites to completely disable content restrictions.

If you do not want to fully disable content restrictions, you can allow duosecurity.com within the Content Restrictions page on the iOS device. This will allow the Duo Prompt to display even if content restrictions are enabled.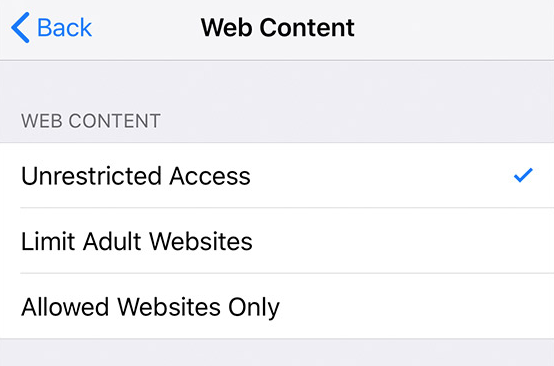 Note that if you are opening Screen Time for the first time and haven't set up the feature, you will be prompted to set up the phone either for yourself or a child and will have the option to set a passcode.
 
iOS 11 or older:
Go to Settings > General > Restrictions > Websites.
Uncheck

 

Limit Adult Content to completely disable content restrictions 
More information on this issue, including potential issues with MacOS, can be found on here on Duo's website.
Related Articles
We value your feedback! Click HERE to suggest updates to an existing article, request a new article, or submit an idea.