...
The currently supported operating system versions are: 
macOS

11

12

(

Big Sur

Monterey

)
macOS

10.15 (Catalina)

 

11 (Big Sur)
In January 2021, ITS began notifying users of their available eligibility for macOS upgrades in an effort to ensure system security. The message you see will depend upon how many versions back from our recommended version of macOS you are currently running and what your Mac is eligible to run. See the different types of notifications you may receive below. If you have not received a notification but want to upgrade, follow the steps to How to Upgrade macOS.
...
Info
If you have already closed the notification prompt for the available upgrade you can upgrade at any time by following How to Upgrade macOS.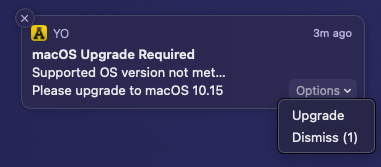 Insufficient Space to upgrade macOS 

(macOS
...
12

=
...
26GB

, macOS
...
11

=
...
35GB

)
If your Mac meets one of the available upgrade options and your Mac does not have enough free disk space to upgrade you will see the notification below. You can free up space by following the guidance at Apple Support or one of our Desktop Support Specialists will be happy to assist with this process. Please visit tech.appstate.edu and submit a request for Computer Support. Once you have freed up disk space you can find the available upgrade in Self Service.
...